The Reality of Unprecedented Times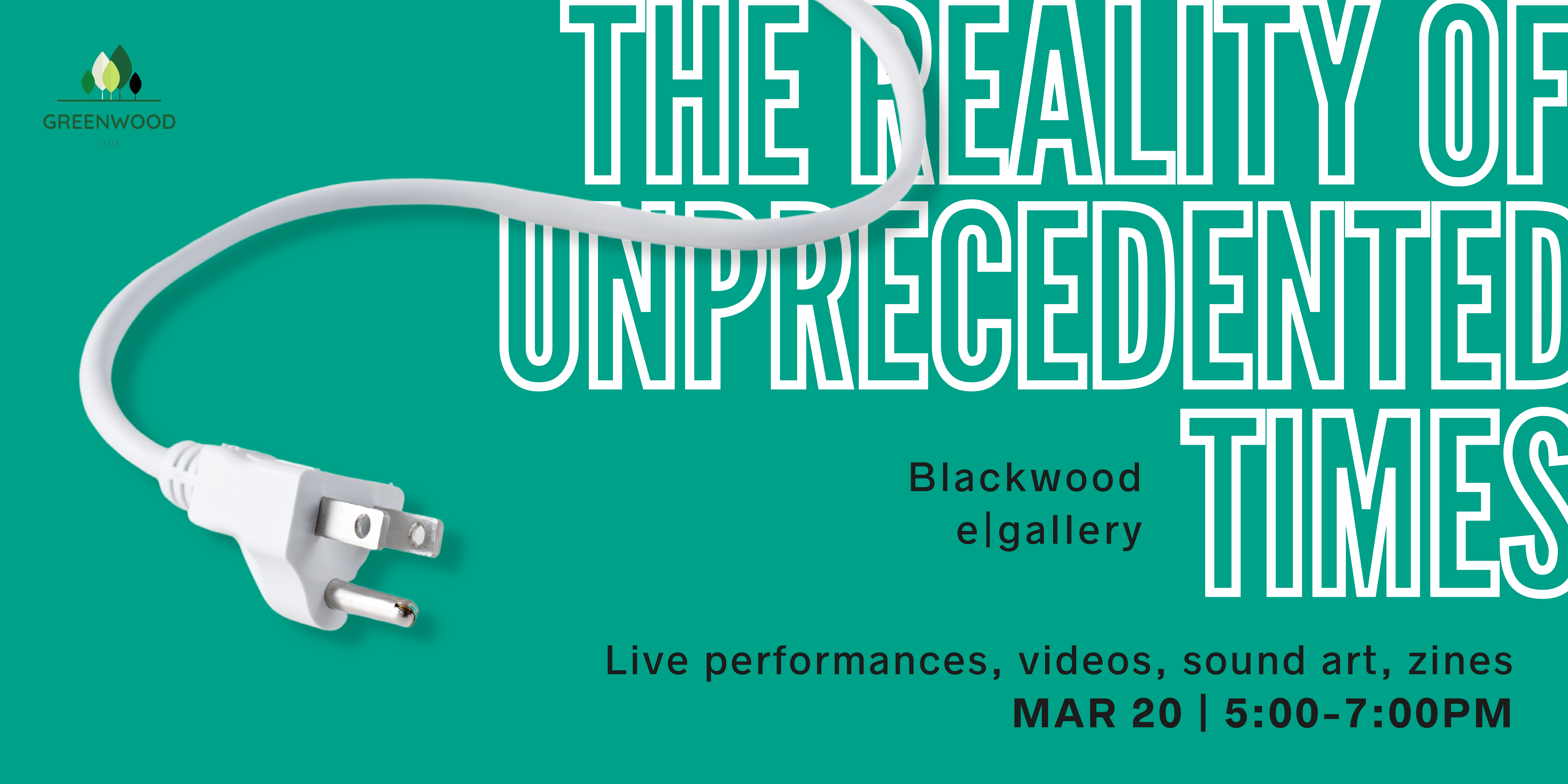 Greenwood, with the support of The Blackwood, hosted a hybrid event of live and pre-recorded performances on Monday, March 20th, 2023, 5:00 PM - 7:00 PM

The Reality of Unprecedented Times considered how the virtual and physical worlds are converging and colliding, and the related implications for the future. This new reality has emerged from the altered relationship that humans have with their physical and digital environments as a result of the pandemic. Driven by a desire for greater intimacy with the screen and a longing to connect through it, the selected works ask the audience how hybridity can be drawn upon as a methodological approach to advancing a message, a feeling, or an artistic expression.

The phrase "unprecedented times" has become commonplace over the past few years and continues to reflect the current challenges that individuals face in adapting to a new reality. Featuring the work of emerging artists from across the Greater Toronto Area, The Reality of Unprecedented Times presents different perspectives on coping with and creating new hybrid lifestyles. This event navigates the blurred boundaries of physical, virtual and psychological spaces, presenting works that range from multimedia installations to screening of pre-recorded videos.

In dialogue with this event, the selected pieces in the zine publication adopt a variety of mediums and experimental ap­proaches including, a poem about how memes will save the world, a painting of a zebra on Zoom calls, and a screenshot image of an essay about re-learning to read on a digital device, to name a few. The zine includes Stacey Arkhipova, Veronica Spiljak, Snack Witch Joni Cheung, Studio X, Bryce Coates, Dania Murad, Regina Adaora Agokei, Valentina Guzman-Martinez, Rosa Fragomeni, Maryna Salagub, Ciar O'Mahony, and Qurat Dar. These works have been categorised according to subthemes that start with the prefix "un-" to explore the different aspects of our experiences during the pandemic. These sub themes include "Untangled," "Unknown," "Unseen," "Uncertain," Unplug," and "Unlearn."



Click here to open the PDF.