Time Out: A Letter From Greenwood UTM

August 4, 2020
The first confirmed COVID-19 case in Canada reached public knowledge in late-January.1 A month and a half of staggering numbers later, on March 13, Quebec became the province to declare a public health emergency with other provinces following suit shortly after.2 To date, Quebec has the largest number of confirmed COVID-19 cases in Canada—59,131.3 On neighbouring soil, the United States of America has the highest number of confirmed cases globally, reaching 4,388,566, with many states already reopening their economies while the numbers continue to grow at an alarming rate.4 Recommendations by the Centres for Disease Control are being thrown away like single-use masks, today's equivalent to plastic straws. The tension between this seemingly short recorded timeframe of the virus's spread and the experience of COVID-19 time (the temporal and spatial slippages we are experiencing) have been occupying our minds at Greenwood UTM.

The last few months have generated no shortage of noise on the subject of the pandemic, but Greenwood, the student-led initiative by Blackwood Gallery Work Study students, noted the importance of providing a space for emerging voices grappling with these circumstances. Greenwood has thus collaborated with a number of these emerging voices—student voices—in hopes of broadcasting a unique perspective on the current state of affairs. Taking the form of a digital publication, Time Out engages with these current circumstances through various perspectives on time and place that the current time out from our previous normal makes possible.

To say the quarantine measures have drastically impacted our society is an understatement, but no less important is the opportunity it has provided for all of us to reflect on the tenets and operations of such an organized society, its pillars, and the processes of unlearning required to take down these pillars. All inextricably linked and entangled, these months are littered with feelings of unease and uncertainty. We are still collecting that litter. There are still pillars to collapse, preconceived notions to unlearn, and systems of linkages to be explored; the link between privilege and access to healthcare, between the cost of living and CERB, between quarantine and loneliness, between the "China Virus" and scapegoat racism.5 Numbers, slogans, graphs, diagrams, catchwords—all sorts of information have flooded information outlets for better and for worse. Below we map out 1500 connections between themes and concepts our generous contributors explore, connections which have provided us equal parts insight and disorientation:
As a generation that grew up on screens, we might be susceptible to strange, slippery and blurry relationships with the numbers that populate our digital environment: infection levels, death counts, streaming rates, storage space, bank account balances. To effectively Work From Home, I have purchased a new computer to replace my decade old laptop. 250 GB of storage space used to be plenty, but now many scoff at anything less than 1TB. This past week a house party of 200 was shut down a block over from my house, a mirror image of the crowds spilling out from my city's hospitals due to overcrowding.
Numbers circle, scroll and fill our heads and feeds throughout the pandemic. In the motion-blur left behind by the afterimages of each day's numbers, I think of the blending of boundaries that take place in Ashley Snook and Ivanovstoeva's work. As much as human blends into and pushes up against nonhuman, I think of how learning simultaneously means unlearning, and "normal" is consistently challenged with each passing day.

Compared to life pre-quarantine, I have been doing more emailing than ever. I stopped checking my health app's pedometer sometime in April as the drop from tens of thousands to a few hundreds looked a lot like economic graphics, and an inverse of reported cases in the locale. These days I have been wondering if my cursor travel distance combined with my email travel distance can make up for that dip— the dip in distance travelled, the dip in connection. I see Emily Roe and Katy Poirier's work and I see myself, once more feeling at ease and content in my surroundings; home becoming something different the more time I spend indoors.

With so much of my day spent at my desk and so little space for thoughts to breathe, time indoors has replaced the reflection period that my daily commute once occupied. With this shift of presence from physical to digital, much of the (now digital) landscape becomes overwhelmingly slippery. My mind bounces from Esther Kim's work's engaging visceral power,to notions of displacement in Liam Mullen's work, then once more to fantasy and identity in Troy A. Lawrence's work, then once more to uncertainty and constriction in Lele Lin's work. For better or worse—mostly for better—emergent, connective qualities are easier than ever to pick up on as everyone moves into literal networked thought.

So much is unfathomable. Our frequented galleries and collective spaces had few pre-existing safety nets to rely on in response to COVID-19 health and safety regulations. Shifting much of my activity from the physical realm to the digital realm, I had no idea how much I would rely on the espresso machine I purchased secondhand for $50, or how many times over that amount I would spend at furniture stores upgrading the home office from an ironing board to something slightly more substantial. At my new desk, Discord, an instant messaging client, has been filling ⅕ of the void that studio time has left, but one thing I particularly miss is the ability to debilitate my comrades in the studio or at the art opening with my coffee breath. I think of once inhabiting a different space-time, I think of these small but meaningful absences, poignantly reflected in the work of Karina Garcia Casanova, Sabryna Ekstein, Hadia Hassan, and Rachel Chen, each bringing attention to the (dis)connection to our environment.
In processing the rapid changes that occur each day regarding what we must learn and unlearn, what we reflect on and what we add to our task lists, what we strive towards and what we leave behind, Greenwood's members have compiled a list of resources that influence our direction. We have reached this reading list together while thinking on the theme of interconnectivity as it exists throughout
Time Out
, and as it ties together contemporary discussions about racism, oppression, social inequality, and capitalism, all topics of discussion highlighted during the pandemic. It is our hope that this small list proves insightful:
Sarah Ahmed, Living a Feminist Life (Durham: Duke University Press, 2017).
Anne Boyer, A Handbook of Disappointed Fate (Brooklyn: Ugly Duckling Presse, 2018).
Adrienne Maree Brown, Emergent Strategy (Chico, CA: AK Press, 2017).
David Carter, Stonewall: The Riots that Sparked the Gay Revolution (New York: St. Martin's Griffin, 2010).
Adele Clarke and Donna Haraway (eds.) Making Kin not Population (Chicago: University of Chicago Press, 2018).
Darby English, To Describe a Life: Notes from the Intersection of Art and Race Terror (New Haven: Yale University Press, 2019).
M. Evelina Galang, Lolas' House (Evanston, Northwestern University Press: Curbstone Books, 2017).
The Invisible Committee, To Our Friends (Los Angeles: Semiotext(e), 2015).
Ilya Kaminsky, Deaf Republic (Minneapolis: Graywolf Press, 2019).
Ibram X. Kendi, How to be an Anti-Racist (New York, Penguin Randomhouse: One World, 2019).
Zoe Leonard, I Want a President (1992).
OUTREACH Online: Envision. Gallery 44 Digital Exhibition, July 24–October 24, 2020. (Gallery 44)
Thomas Piketty, Capital & Ideology (Cambridge: Harvard University Press, 2020).
Claudia Rankine, Citizen: An American Lyric (Minneapolis: Graywolf Press, 2019).
Arundhati Roy, "The Pandemic is a Portal" in the Financial Times (online), April 3, 2020.
Aeron Bergman and Alejandra Salinas, Telepathy 传心术 (Portland: INCA Press, 2018).
Solmaz Sharif, Personal Effects, reprinted online via Poetry Foundation from the collection, Look (Minneapolis: Graywolf Press, 2016).
Saul Williams, "Rammellzee at the Battle of the Republic" in US (a.) (New York: Gallery Books/MTV Books, 2015).
Ocean Vuong, On Earth, We're Briefly Gorgeous (London: Penguin Press, 2019).
Land Acknowledgement

Greenwood UTM continues to consider the role that academic institutions play in the continuation of colonial ideologies. As students inside these institutions (in this case, the University of Toronto Mississauga), we have also considered how they can move forward from outdated thinking through acts of reconciliation. Throughout the production of Time Out, we have been fortunate enough to remotely reach students and faculty from various institutions through digital correspondence, traversing several territories. We acknowledge that this publication becomes a digital meeting site, connecting a multitude of territories that have been and continue to be cared for by Indigenous peoples. Each Greenwood member and Time Out contributor resides in, and benefits from traditional lands.
Greenwood recognizes that the many traditional territories upon which work on and in this publication has taken place. Beyond the
University of Toronto
, on the traditional territory of the Huron-Wendat, the Seneca, and the Mississaugas of the Credit River, we wish to acknowledge the following territories which have sustained our contributors' work:
York University
in Tkaronto, which has been care-taken by the Anishinabek Nation, the Haudenosaunee Confederacy, the Wendat, and the Métis;
Concordia University
and
McGill University
in Tiohtiá:ke, widely known as Montreal, under the custodianship of the Kanien'kehà:ka Nation and a site of meeting and exchange for the Haudenosaunee Confederacy, Huron/Wendat, Abenaki, and Anishinaabeg;
Lakehead University
on the traditional lands off the Fort William First Nation and the traditional territory of the Anishinaabeg Nation; the
University of Western Ontario
, traditional territory of the Anishinaabek, Haudenosaunee, Lūnaapéewak and Attawandaron peoples; and the
University of Windsor
, traditional territory of the Three Fires Confederacy of First Nations, including the Ojibwa, the Odawa and the Potawatomie Nations. Greenwood recognizes that this publication would not be possible without the care for the lands on which our institutions reside. We acknowledge these nations as past, present, and future stewards of these lands and we are committed to upholding them as home to many Indigenous peoples in the spirit of reconciliation.
Acknowledgements

The members of Greenwood UTM would like to thank all of the contributors for generously sharing their work and trust throughout the production of the digital publication
Time Out
. We at Greenwood are honoured to reach and represent students of various backgrounds, and it is our hope to amplify and elevate these voices. With full hearts, we thank Esther Kim, Liam Mullen, Emily Roe, Ashley Snook, Lele Lin, Karina Garcia Casanova, Sabryna Ekstein, Troy A. Lawrence, Katy Poirier, Hadia Hassan, IvanovStoeva, and Rachel Chen for their continued cooperation, patience and enthusiasm. We would also like to extend our heartfelt thanks to the Blackwood Gallery staff for their generous guidance throughout the process of this publication, as
Time Out
is the most ambitious programming Greenwood has headed since the initiative launched in 2018. Lastly, we extend our thanks to our growing audience for giving us the chance to amplify the voices of these artists, and for giving these emerging voices their generous viewership.
Thank you,
–Greenwood UTM, the Blackwood Gallery Work Study team
Nancy Hamdy,
Outreach Assistant

James Legaspi,
Curatorial Research Assistant
Camilla Peng,
New Media Assistant
Kaitlyn Simpson,
New Media Assistant
Jessica Velasco,
Curatorial Research Assistant
---
1 The Canadian Press, "A timeline of events in Canada's fight against COVID-19," The Star, TorStar Corporation, June 18, 2020.
https://www.thestar.com/news/canada/2020/06/18/a-timeline-of-events-in-canadas-fight-against-covid-19.html
.
2 Tyler Dawson, "As the Covid-19 pandemic hit, provinces declared states of emergency. Now many are up for renewal," National Post, Postmedia Network, April 15, 2020.
https://nationalpost.com/news/provincial-states-of-emergencies-were-issued-a-month-ago-most-are-coming-up-for-renewal
.
3 As of July 30, 2020 19:00 EDT (canada.ca).
4 As of July 31, 2020 4:39 CEST (covid19.who.int).
5 Donald Trump (@realDonaldTrump). "We are United in our effort to defeat the Invisible China Virus, and many people say that it is Patriotic to wear a face mask when you can't socially distance. There is nobody more Patriotic than me, your favorite President!", Twitter, July 20, 2020, 3:43 PM.
https://twitter.com/realDonaldTrump/status/1285299379746811915?ref_src=twsrc%5Etfw%7Ctwcamp%5Etweetembed%7Ctwterm%5E1285299379746811915%7Ctwgr%5E&ref_url=https%3A%2F%2Fwww.scmp.com%2Fnews%2Fworld%2Funited-states-canada%2Farticle%2F3093995%2Fdonald-trump-calls-wearing-mask-patriotic-fight
.
Severed Tongue
Esther Kim, sheet metal, 19.5 in x 13 in x 13 in, 2020
Severed Tongue
is a metal sculpture that contemplates the limitations of verbal communication and ideas around "biting one's tongue." Representing language and speech, the tongue is an instrument for communication that powerfully and precisely unfolds. It is hidden, enclosed within the mouth and skull; a passageway into the mind. Picturing a tongue bitten off completely,
Severed Tongue
evokes the held-back attempts to speak, a suppression of freedom dissected at the root. Hollow yet heavy, the two-foot tongue cannot be ignored as it emerges from the wall; right in the viewer's face.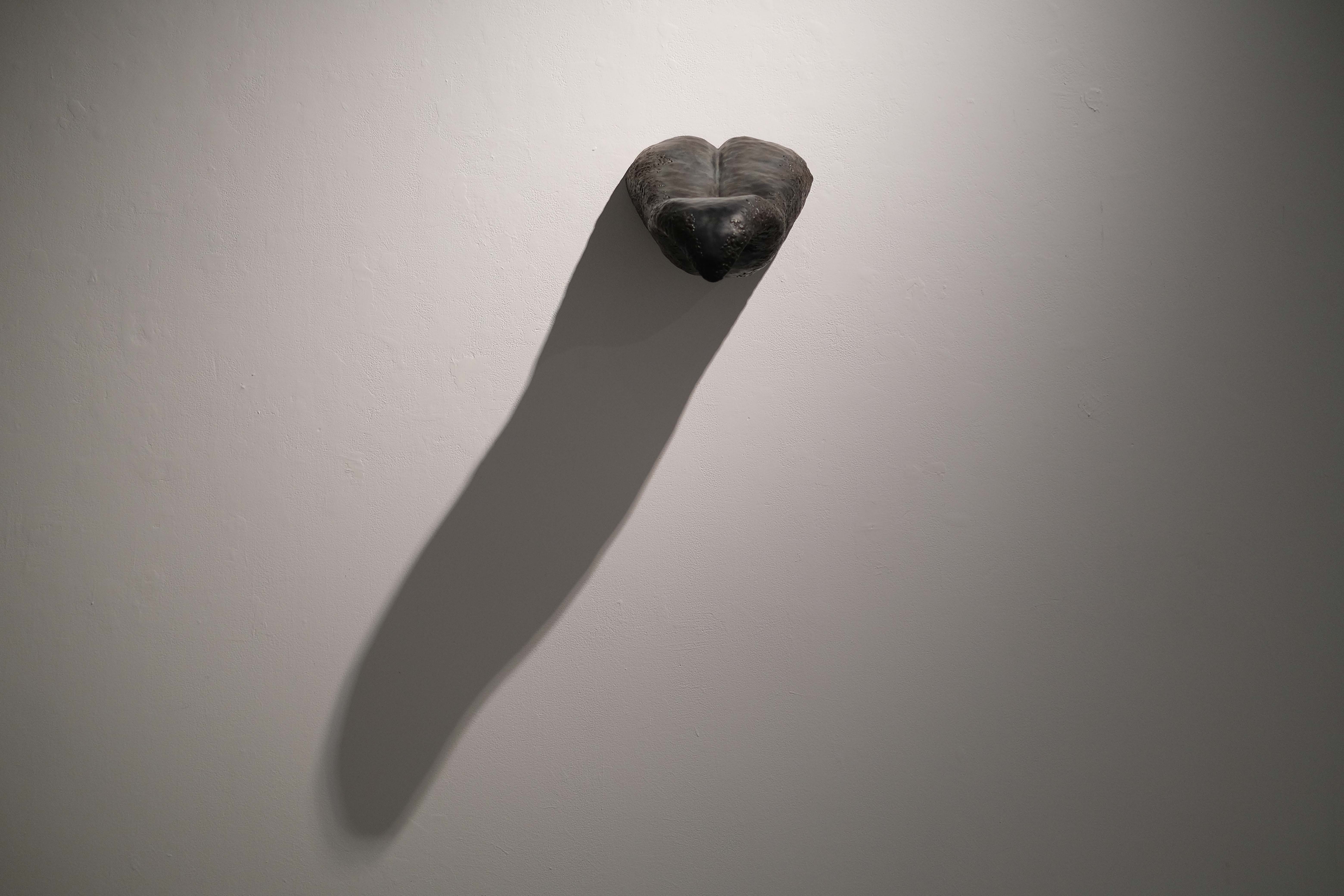 FILM REVIEW: The Apology (directed by Tiffany Hsiung, 2016)
Esther Kim, April 2020
The film is centralized around "the comfort women" also known as "the grandmothers," individuals (children at the time) who were once enslaved by the Japanese Military during World War II to serve as sex slaves; taken at the age of 13 to 16, these girls were forced, beaten and raped repeatedly. They demand an apology from the Japanese Government for their past wartime atrocities, the omission of truths from historical records, and for the scars left unattended. It was not only the girls from Korea that were taken to be used as comfort women, girls from China and the Philippines and other Asian Countries were victims as well. The film memorializes the past struggles of shame and ends of the journeys of Grandma Cao (China), Grandma Adela (Philippines) and Grandma Gil (South Korea), like the flight of three butterflies. Grandma Gil says in one of her statements that she wants to be like a butterfly, breaking free of the barbed wire that divides the two Koreas and to return to North Korea, her home where she had been taken from when she was thirteen. Near the end of the film, Yoon Mee-Hyang states, "that is the life of a butterfly. The portion of its life that a butterfly can fly is very short" (1:37:43).
Swallowing pain and keeping silent, which is what many of the comfort women resulted to, reminds me of my sculpture
Severed Tongue
; a hollow metal sculpture of a two foot tongue, hung like a trophy of the unheard. Hollow words and thoughts are cut at the root, silencing them while the pain of it continues to endure throughout time. The women felt the need to silence themselves due to feeling shame of being raped; the shamefulness of being a victim. Shame is a common feeling held in many Asian cultures which had adopted Confucius philosophies as it is seen as not pure to have sex before marriage, a tainted vessel. Many comfort women were afraid to speak of what happened to them in fear of being ashamed and exiled from families or communities. It feels liberating to see the silence being broken and the truths to be spoken of and heard.
No apology can make a wound disappear. "The scars will remain, but my heart can heal" (26:44) (Grandma Gil speaks in a lecture to Japanese students). The apology will not change what has taken place in history but it can give light and hope for growth and to a better future. Once all the victims of the comfort women dies, the apology will feel empty, with no direction and a little meaningless. Grandma Cao is cutting a log with a chisel and hammer and her daughter returns and asks her mom why she keeps doing this. At the age of 92, Grandma Cao's response embodies her determination and the strong will she carried and fostered throughout her life, "I saw the log could be split, I just needed to break it apart" (16:56).
The film gives a short glimpse into the final moments of the lives of three strong women who were apart of the 200,000 comfort women that were forced into sexual slavery during the World War II. It solidifies and gives permanence for the fight for reconciliation and justice of the few comfort women left living. I personally found the film very moving and a huge tearjerker as it reminded me of my own Grandma, my cultural and traditional history and I really enjoyed the use of metaphors and analogies to convey and describe feelings.
---
Esther Kim is a Canadian-born Korean artist currently in her 5th year at York University, majoring in Visual Arts (Studio). She explores concepts of the body through sculptural forms, utilizing metal fabrication, foundry, mould-making, and contrast in medium and scale to make ambiguity tangible. Inspired by philosophies of the mind and its relation to the body, her work seeks to challenge commonly held assumptions about the world. She opens possibilities for viewer interpretation in her work, instigating cognitive and bodily awareness of the subjective self.
Website

/

Instagram
Displace and Discount
Liam Mullen, 2-channel video installation, footage from Walmart Blue Nintendo 2DS©, synthesized audio drawn from Animal Crossing: New Leaf and field recordings, 3:33, 2020
The town of Huntsville belongs to the Muskoka Region, a collection of seasonal communities that rely on summer tourism to employ and create an economic base for the year-round residents. Huntsville was rather untouched by major corporations—until the construction of Walmart in the early 2000s.
In placing Walmart on the land in which it currently stands, the corporation created a displacement of animals and interruption of breeding that has interrupted the local ecosystem. Both in developing a structure and through implementing its trademark colours of blue, red and yellow, Walmart produced disruption and fear for the human and non-human residents of Huntsville.
To combat these impacts, the community had looked to create a set of terms that would minimize the interruption of the natural environment by muting the colours of the building's facades, as the manufactured colours were alarming to wildlife. This understanding of disruptive colour is the point of departure for this video work,
Displace and Discount
.
Using a synthesis of field recordings and soundbites from Nintendo's
Animal Crossing: New Leaf
the work draws relationships between the video game and Walmart's incursion into Huntsville, ironically engaging in urban development and the celebration of urban expansion. The project seeks to understand practices that are instilled into a child's mind through seemingly soft or innocent representations of colonialism.
This two-channel video installation creates a dual screen that brings out the muting and draws contrast between natural colour waves and the manufactured colours brought into the environment. This work looks to interrogate the displacement and discounting of a population for the sake of commerce.
---
Liam Mullen is an interdisciplinary artist based in Toronto. His background in photography and music anchor his practice of navigating and translating information, both visual and auditory, into affective deconstructions of truths. In drawing seemingly banal connections he builds narratives, subverts pretences, and prompts conversations. He is currently pursuing a Bachelor of Arts (Honours) in Visual Studies at the University of Toronto's John H. Daniels Faculty of Architecture, Landscape, and Design.
Instagram
Electrical Gardens
Emily Roe, mixed media triptych, 20 cm x 20 cm each, 2020
Today, society is in the middle of a transformative process. However, due to the COVID-19 pandemic and accompanying quarantine, my personal life remains still. My social, work, and school life have been compacted into my bedroom. The internet has become the dominant source for all my connections in life. In some instances, the internet can submerge me into a fictional reality, and in others, I am completely saturated in today's newest problem. My dependence on the internet, and more specifically social media, has increased considerably, consuming most of my leisure time.
My goal in
Electric Gardens
is to create a visual environment exhibiting my personal relationship with technology. I use the power cable to represent electricity. The cables have significance in the triptych as they are the only light source in the composition. The location of a garden also holds significance to me, as I create the space as a reminder that the natural environment is the origin of most of our technological advances.
Now more than ever, we fully depend on the power of electricity to provide us comfort, as well as to act as an entry into the digital world.
---
Emily Roe is an artist from Windsor, Ontario with an evolving practice. In 2021, she will graduate from the University of Windsor with a Bachelor of Fine Arts in the Honours program. Throughout her education she has been involved as a Teaching Assistant, Digital Print Lab Manager, and Student Assistant. Her work and school experience have helped her refine her art career. By applying what she has learned, Roe predominantly creates art with mixed media techniques. She is proficient in photography, painting, colour theory, Photoshop, and often likes to combine these practices.
Website

/

Instagram
(Intra)terior Vessel, Becoming, Fernigen C. Thicket, Sampling Kinship, Stay With Me, VHD VHD
Ashley Snook, sculptures and installations, 2014–2018
(Intra)terior Vessel, wax, dog fur, plaster, approx. 60 in x 13 in x 10 in, 2016
My practice examines the relationships between human and nonhuman animals within the existing biosphere. As an artist, I am intuitively driven to create work that engages with notions of interconnectivity and animality through the innate affinity for other living organisms seen in the concept of biophilia. Through the development of corporeal artworks that physically amalgamate characteristics of animal, human, and plant using organic and synthetic materials, the foundation of my work questions the conventional hierarchy that grants a lower status of agency to the nonhuman. This trajectory of biological exploration and animality aims to reconnect a raw sense of intimacy between the human and animal and the surrounding biosphere through sculpture, installation and drawing.
Becoming, moss, clay, sheep wool, wax, approx. 18 in x 13 in x 15 in, 2014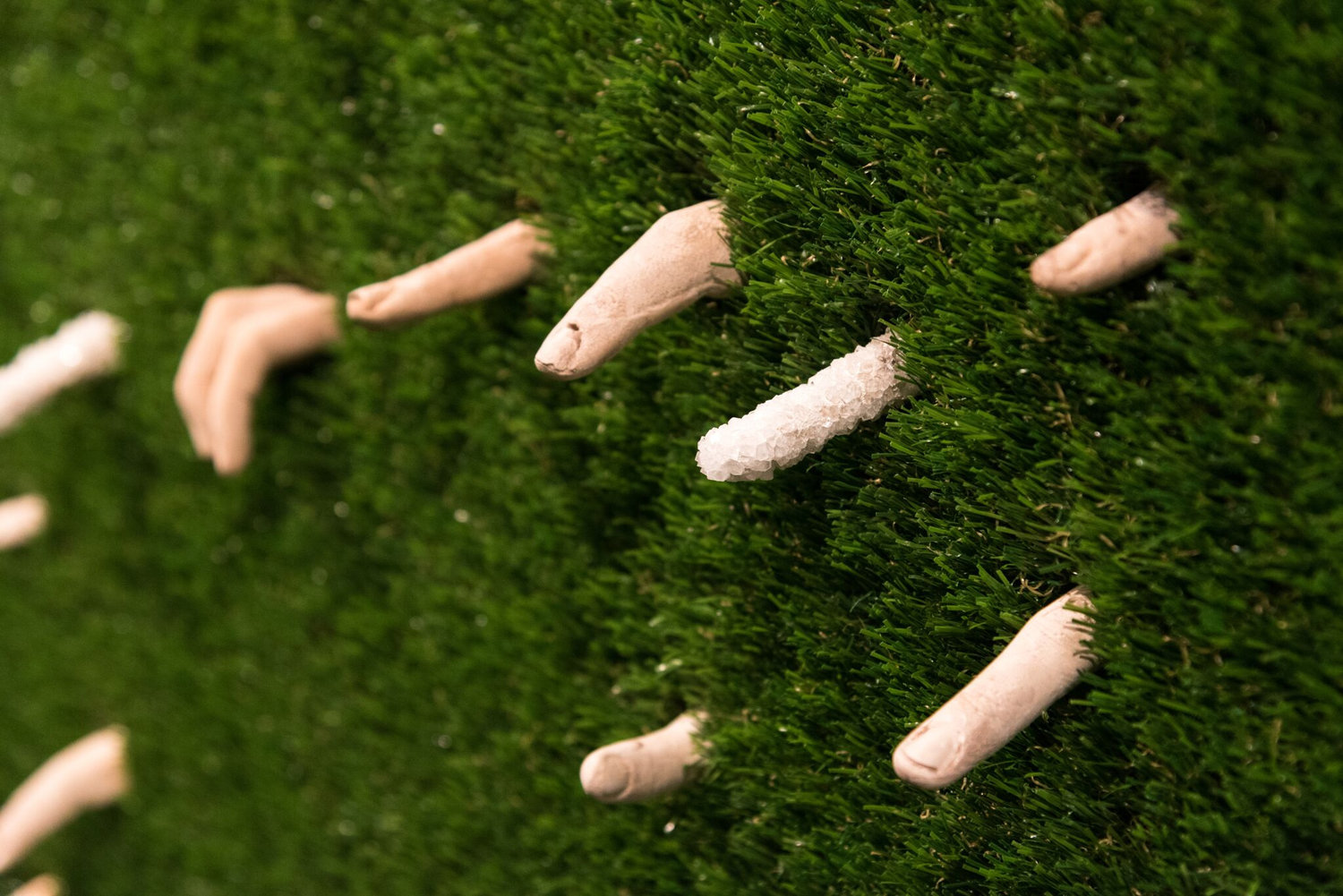 Fernigen C. Thicket, artificial grass, plaster fingers, crystals, essential oils: cedar wood; pine; balsam fir; eucalyptus; vetiver, recorded sound, (photographic credits to Gabby Frank)
My own experience comes into play with my work. Coming from a small town in Northern Ontario, I have continuously been surrounded by forests, fresh lakes, and domesticated and undomesticated nonhuman animals. In using my own experience as an entry-point within my practice, I aim to re-visualize the points of connection between the nonhuman and human animal and vegetal/botanical life in order to denaturalize the power binaries of species through the suggestion of removing barriers of the human/animal divide.
Sampling Kinship, glass test tubes, soil, chia seeds, plaster, wax, fur, organic material, approx. 17 in x 3.5 in x 6 in, 2015-16
VHD VHD, glass, hair, sand, organic material, essential oils: lavender, lemon, cypress, mint, patchouli, recorded sound, 2019
Stay With Me, organic material, Murmur land Studios Residency - The City in Reverse: Diagramming Intelligent Systems, Sherbrooke, Nova Scotia (July 2-8, 2017)
---
Ashley Snook is a Toronto-based interdisciplinary artist and is currently a PhD student in the Art and Visual Culture program at Western University in London, Ontario. In her practice, Ashley examines interconnectivity between human and nonhuman animals, and vegetal/botanical life. Currently, her research and studio work investigate fundamental linkages between species, aiming to fuse conceptual separations through sculpture, installation and drawing.
Website
/
Instagram
Glass
Lele Lin, oil on canvas, 31 in x 31 in, 2020 (photographic credits to Mathieu Missiaen)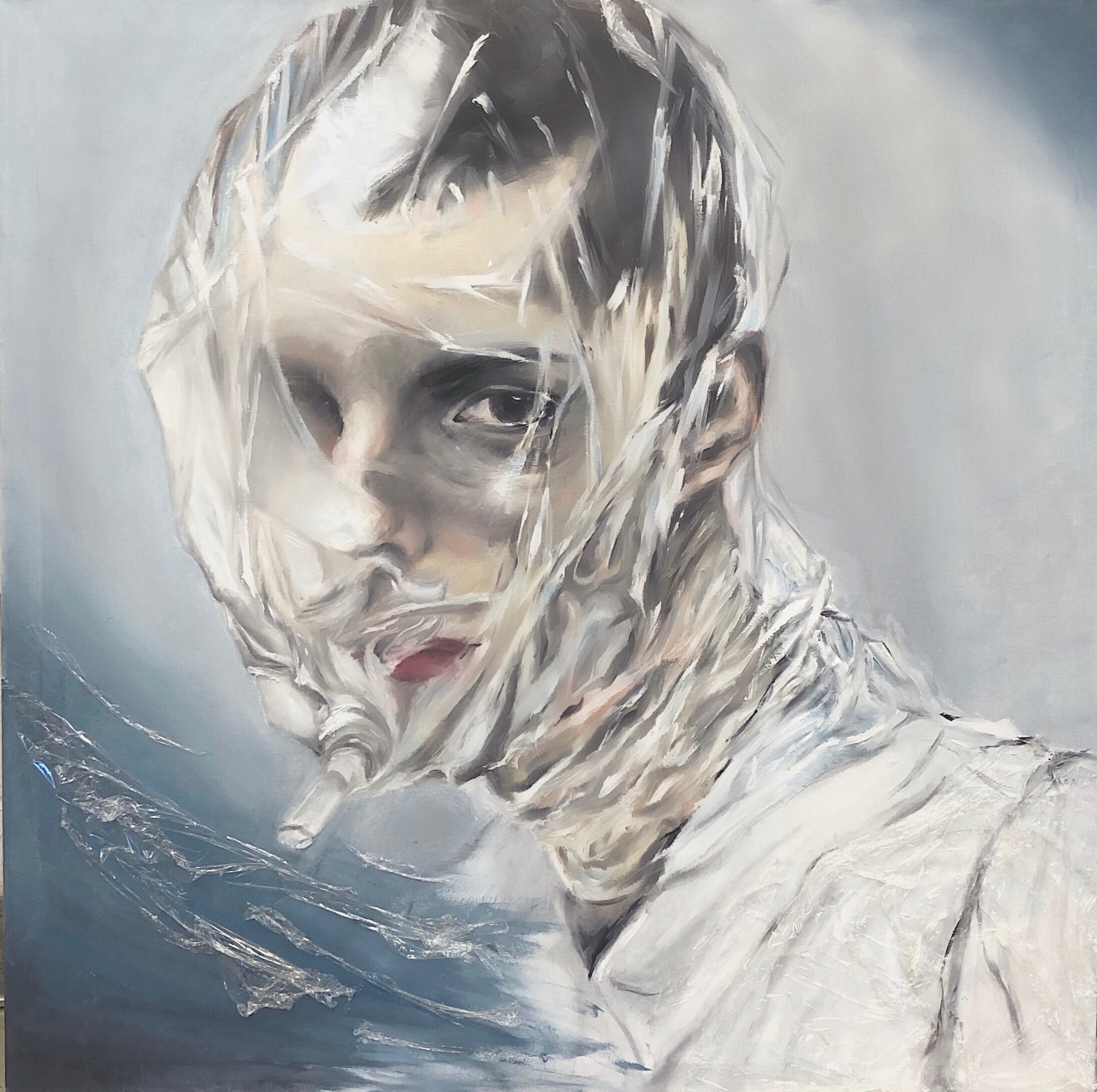 Glass
was created at the beginning of the COVID-19 pandemic; I was anxious since my mother works in the medical field.
Glass
engages with the social sense of suffocation that arises from the loneliness of the quarantine. The plastic and vapour inside the mask highlight the impenetrability of isolation. Visual tactics throughout the painting—including the emphasis on the colour white (associated with sterile hospital environments) and the plastic itself on the surface of the painting—simulate onlookers watching medical workers through windows.
---
Lele Lin is a 4th-year student at Western University, specializing in Visual Art and Art History. Lin's practice of realist painting focuses on conveying emotions through portraiture, specifically through the manipulation of facial expressions and accompanying atmospheres. Common across her work is a particular attention paid to detail and lushness, which Lin attributes to her obsessive mindset. Lin cites being an overthinker as an inspirational force, continuously seeking to change her outlook on the world.

Instagram
Under the High Chair
Karina Garcia Casanova, digital photography, 2020
Under the High Chair - April 6, 2020 - Breakfast, digital photography, 2020

When COVID-19 hit and daycares closed for nearly four months, I struggled with finding ways to work on my artistic projects while taking care of my two young children. After the daily activities of feeding, washing, clothing, cleaning, consoling, educating, and playing, there is little time or energy to make work. The problem of reconciling artistic creation and domestic work existed long before daycares closed. But during the pandemic the situation reached a whole new level of incommensurability. This photo series,
Under the High Chair
, chronicles the daily mess that Mathias, my 18-month-old, leaves under his high chair after each meal. Every day, three times a day, I scrub the floor of the food scraps. This work and the countless other gestures of care that I perform regularly and repetitively normally goes unnoticed. I'm interested in how documenting the mess freezes the gesture and makes it visible.
(clockwise)
Under the High Chair - June 11, 2020 - Lunch, digital photography, 2020
Under the High Chair - March 22, 2020 - Dinner and Lunch, digital photography, 2020
Under the High Chair - May 14, 2020 - Breakfast, digital photography, 2020
Under the High Chair - March 25, 2020 - Dinner, digital photography, 2020
---
Born in Mexico, Karina Garcia Casanova is a filmmaker and photographer based in Montreal. After studies in Philosophy and Literature at McGill university, she directed several short films. In 2014, she completed her first feature length documentary, Juanicas, an intimate meditation on mental illness and rootlessness. Her work has been shown at the Boston Museum of Fine Arts, Medellin Museum of Contemporary Art, Havana Film Festival, Rendez Vous with Madness, Edinburgh Film Festival, BAFICI, etc. She is currently completing her first year of a Masters in Fine Arts (Film Production) at Concordia University.
Website / Instagram
Artifacts from the In-Between
Sabryna Ekstein, poetry, 2020
In late-March/early-April, I wrote a list of activities and happenstances that I missed. I assumed I would get them back within a few weeks.
Months later and this list seems like an artifact.
A list made during the in-between. When during the first two weeks we assumed this might be done sooner as opposed to later. When everything was closed and all we could do was wait.
A LIST OF WHAT YOU MISS
Lattes
Avoiding eye contact with strangers on the subway
Having a reason to wear jeans
Reading at bars
Museum visits
Baseball
Making out
Overhearing conversations
Finding pennies on the sidewalk
Bumping into friends
Making out
---
Sabryna R. Ekstein is currently working on her MA in English in the Field of Creative Writing, holding a graduate degree in Museum Studies. Her work can be found in FEELS Zine, Sophomore Mag, The Undergraduate Journal of American Studies (University of Toronto), and The Salterrae.
Worlds Away
Troy A. Lawrence, digital painting, 7 in x 7 in, 2020
This is the first drawing I made in which I depict myself as the trans woman that I am. That is to say, I drew myself the way I see myself. I am only newly out to some circles of friends, so this drawing represents a big first step for me.
This illustration depicts me sitting in my room, thinking about a battle between a warrior woman and a dragon in a fantasy realm. It illustrates how, with the help of my imagination, I can escape: I can go anywhere; see anything; and be anyone. I use this escape in order to find relief, as well as to process difficult emotions. This illustration represents much of how I have been spending my time in quarantine, and one of the many techniques I have been using to avoid feeling trapped while in isolation. I have learned that my imagination has been one of the greatest driving forces behind my urge to create art, and thus I decided to make this piece as a tribute to my creative process.
---
Troy A. Lawrence is a trans woman, and a long-time sufferer of severe depression and anxiety. Through their tumultuous years at university, they used art to process the myriad difficult emotions that they faced every day, regarding both mental health and gender identity. Over the years, they have learned that the need to express themself is fundamental to who they are as a person, and illustration has been the primary creative outlet for that expression. Professionally, they pursue every opportunity allowing them to apply themself artistically, and they aim to one day become a medical illustrator.
Website /
Instagram
"I think we all knew this term would be different":How UTM's Community has Adapted to a Time Out from Campus
Kaitlyn Simpson, 2020
The COVID-19 pandemic has upended university life as we know it. Alongside previously-unimaginable health and economic fears, the past few months have left us physically and emotionally separated from each other. This distance has caused profound challenges for both the experiences of individual community members and the university more broadly.
Given the rapid pace of our transition to virtual learning and programming, there has been little time to grapple with the impact of the pandemic on our fellow classmates, professors, and ourselves. In an effort to uncover some of these stories, I spoke to community members of the University of Toronto Mississauga (UTM) to better understand how the pandemic has impacted them professionally, personally, and emotionally.
Virtual Teaching and Learning

I first spoke to one of my instructors—Chris Young. Young coordinates Digital Scholarship, Archives and Special Collections at the UTM Library. Alongside this role, Young is teaching a course titled Critical Game Studies for the Faculty of Information this summer.
"I think about a few weeks before class started, I had to do a complete revamp of what I was intending because the logistics of coordinating what you would normally do in person just don't work remotely," Young said. "Remote teaching is very different, it requires a lot more work … because we're trying to learn a new way of teaching, pedagogically speaking."
Young's course involves both theoretical content—which is delivered through online lectures— and a technical video-game-making component that is taught through workshops. While he stressed the technical component of online learning was difficult, for him, one of the most challenging parts of teaching during the pandemic is the emotional labour required to respond to students facing hardship.
"I think faculty are going to have a real tough time in September," he said, noting that fewer instructors work over the summer. "I think everyone's thinking, well, I might have to teach differently. I might have to deal with some technical challenges … but I don't think the university is prepared for the emotional labour that faculty are going to be exposed to this year."
Young continues to facilitate a welcoming learning environment for his students, responding to these challenges by balancing student accommodations while ensuring academic goals are met.
Celebrating from Afar

The pandemic has fallen on several key occasions, including Indigenous History Month and spring graduation. I asked Tee Duke—Assistant Director, Indigenous Initiatives, at
UTM's Indigenous Centre
—how the pandemic impacted Indigenous History Month programming.
"It was challenging in the early stages because we wanted to create a space online that still offered opportunities to build positive relationships with the UTM community and beyond while attempting to be experiential or interactive," Duke said. "I believe we have accomplished this following last month's programming by offering various themed IC webinars that shared Indigenous knowledge while being aesthetically appealing."
Like Young, Duke discussed how shifting to an entirely-digital format posed challenges. "From an Indigenous lens, being able to engage and build relationships in-person is very important, you can laugh together, share stories, share a good meal, enjoy nature or take-in the medicines (smudge) together," she said. "However, since March we have had to create more of an online presence and the month of June was our most successful time online."
Finding Meaning in Testing Times
Unsurprisingly, this period of rapid change has resulted in significant turmoil and difficulty for many in our community. However, I was pleased to learn that some positive moments were fostered amid these challenges.
Duke spoke about the role of collective support during this time of isolation. For example, the Indigenous Initiatives Unit and the University of Toronto Scarborough and UTM's Centre for Student Engagement supported the centre's digital programming. "It was an important reminder that even though the pandemic presented us with challenges, we have a tri-campus community that continues to support us," she said.
For Young, these past few months have provided him more time to spend with his family and loved ones.
I too have found pockets of positivity since the start of the pandemic. As a student, transitioning to digital learning was awkward and distant at times, but it allowed me to prioritize my schoolwork in a calculated and intentional way. I must admit, though, I miss going to the library more than anything else.
The pandemic has also provided space to reflect on my community. For me, the perpetual worry pales in comparison to the support I've experienced from my classmates, neighbours, and family. University students at the Faculty of Medicine launched a
grocery-shopping and child-care program
for front-line healthcare workers. Several tenants in my rental building joined hundreds across Toronto in the
Keep Your Rent
movement to stand in solidarity with neighbours who cannot afford to pay rent. Friends, classmates and families have been hosting
virtual celebrations
for students who graduated this year. And some of my Annex neighbours put on
daily sidewalk concerts
for those of us living in the area.
These stories do not to diminish the hardship experienced by many during this deeply difficult time, but rather showcase the strength that I—and many others—have gained from my community these last few months.
At the University of Toronto, students, staff, and faculty have managed to maintain community and foster connections under these extreme circumstances. This resilience is foundational as we move forward together.
---
Kaitlyn Simpson is a Master of Information Candidate at the University of Toronto's Faculty of Information. Her academic concentration is Technology & Culture. She is a New Media Assistant Work Study student at the Blackwood Gallery this summer.
Instagram

/ Twitter
At Home, Yourself
Katy Poirier, collaged paper on MDF board, 10 cm x 10 cm, 2020
This artwork is a small collage photographed on April 13th while working from home to complete final coursework and assignments. The transition from seeing a group of peers daily to the isolation of my home is explored in this artwork. A black-and-white reproduction of a childhood photo is the focal point of this work. Torn edges create an ambiguous rift between two spaces in the composition, signifying the disconnect between past and present, as well as between norms of pre- and post-COVID-19 outbreak life. The internet creates the ability to speak to anyone without leaving the confines of one's room, and while surrounded by the infinite space of the Internet, I spent the first part of quarantine feeling oddly lonely due to the transitioning of physical connections into digital ones.
---
Katy Poirier is a fourth-year Visual Arts student at Lakehead University. Taking inspiration from North Western Ontario's aesthetics and culture, she focuses on concepts of self-reflection and memory.
In her drawing practice, Katy has experimented with fumage, as well as crafting her own drawing tools and materials. She holds an acute interest in abandoned items that have been reclaimed by nature and memories almost forgotten.
Instagram
Buried, Frigid, Sunrise, Frost-Bound, Dissected, Transparent Foliage, Crisp, Immerse
Hadia Hassan, paintings, 2020
Buried, 2020. Oil on canvas, 30 in x 40 in.
Daily walks have become a way to deal with the restrictions of the COVID-19 pandemic. Over the course of a few months, people have collectively used walking outdoors in order to de-stress and also enjoy time outside while maintaining social distancing. In walking, however, we have also become surrounded and therefore influenced by nature. This series of leaf paintings represents the moments that people have, as a whole, collected within their minds by engrossing themselves in nature.
Frigid, 2020. Oil on canvas, 36 in x 48 in.
Sunrise, 2020. Oil on canvas, 60 in x 40 in.
Whilst the images of leaves are likely ones that we see every day, it is during this time of intense isolation that ordinary leaves, grass, and plants become more noticeable and have the potential to create positive and lasting effects on our mindset. Walks have slowly become a small yet impactful way of interacting with the outside world while everyone is restricted to remaining inside. At the same time, this unusual and sometimes taxing stretch of time has permitted us to observe the intricacies of nature that can often be overlooked, including how leaves and foliage are set in their surroundings.
Frost Bound, 2020. Oil on wood panel, 20 in x 20 in.
Dissected, 2020. Oil on wood panel, 20 in x 20 in.
Transparent Foliage, 2020. Oil on canvas, 30 in x 40 in.
Crisp, 2020. Oil on canvas, 30 in x 30 in.
Immerse, 2020. Oil on wood panel, 20 in x 20 in.
---
Hadia Hassan is a Pakistani-Canadian painter, primarily working in acrylic and oil. Her subjects include landscapes and still lives focusing on temporal experiences, and she uses earthy colours and nature for inspiration. Her work focuses on highlighting the influence of time and the ephemeral nature of human experiences. Hadia aims to bring forth discussions about how we view, or ignore, nature. Her goal is to depict subjects we see when time is at a standstill, suggesting how such moments are ingrained by memory. In focusing on overlooked details, she addresses how an experience can last or diminish.

Website
/
Instagram
Manufactured Nature
IvanovStoeva, installation, 213 cm x 254 cm x 10 cm, 2019
For
Manufactured Nature
, the aim is to recreate a skyscape. The project considers visual, perceptual and conceptual systems as constructions of new realities. From the usage of different second-hand manufactured components, we engineer a cybernetic utopian landscape where nature is shaped through mechanical means. What are the implications of constructing nature through technology, and what does that reveal about our relationship to said nature?
We are interested in "new nature," a potential future for our environment, heavily altered by human activity. During the COVID-19 pandemic, we were, and still are, deprived of social contact and privileged with a connection to nature. This period has the potential to change our perception regarding the values of our lives. As we progress in an era of automatization with robotic advancements gaining increasing autonomy, humans arguably lose their grip on the ambiguity of our essence and existence—these very complexities are key to humanity's unique position in the world. By mechanically constructing an image of nature, we underline the tensions at play in systems that govern human emotion, aesthetics, and relationships with the natural world.
---
IvanovStoeva became a duo venture in 2010 after several collaborative projects in Canada and Europe. They have presented their work in solo and group exhibitions and have been part of major art events such as The ELEKTRA International Digital Art Festival and Art Souterrain - Contemporary Art Festival in Montreal. Their research has been supported by many awards and fellowships such as the Peter N. Thomson Family Field School Award, Japan, 2019; a Research and Creation grant, Hexagram, 2019; an FRQSC, Fonds de recherche du Québec, research grant 2018-2019; a FOFA award for excellent achievement in visual art, Concordia University, 2017; a GSAAC award for excellent achievement in visual art, Concordia University, 2017; and a Dora and Avi Morrow Fellowship for excellent achievement in visual art, 2017.
Website
From your sister
Rachel Chen, poetry, 2020
I always told you that 12 would be the most awkward year of your life,
But I didn't anticipate that you would come of age in a pandemic,
That Hamilton would come out on Disney+ and you would ask me what the hype was all about (you didn't get it),
That you would flip me off for the first time over FaceTime (as a joke),
That you would ask me "do you support the gay community?" over Instagram (because I haven't told you about me),
That you would tell me "don't worry, I only showed Mom your plant pictures, not the other stuff" (because you heard us arguing about anti-Black racism on the phone),
As you turn 13 in quarantine (13 years like 13 tumultuous states).
How do I tell you "no" when you say you want to go back to normal, back to school?
Your world is reopening but it's not the same,
And you're so far away from me—I just checked,
there were 10,028 new cases reported at home today.
---
Rachel Chen is a Toronto-based journalist and creative writer passionate about making the world a better place. She is a Master of Information candidate at the University of Toronto. Most recently, she was an Audience Development Editor for Postmedia and previously wrote for Chatelaine. Her freelance work has appeared in The Unpublished City II, Flare, Vice, Maclean's, and Xtra, among others.

Website / Instagram / Twitte
Interactive Workshop with Sean Martindale

Greenwood UTM's second free workshop of the 2019 year invited Sean Martindale, a Toronto-based interdisciplinary artist, to talk to participants about his work in his ecologically-informed art practice. Following the presentation, guests had a chance to have an open conversation with Martindale, as well as participate in a hands-on upcycling project led by Martindale where guests created simple planters out of salvaged everyday materials.

Sean Martindale is an internationally recognized, award-winning interdisciplinary artist and designer based in Toronto, Canada. His interventions activate public spaces to encourage engagement and often focus on ecological and social issues. His playful works suggest alternate possibilities for existing spaces, infrastructures, and materials found in urban environments. Frequently, Martindale uses salvaged goods and live plants in unexpected ways that prompt conversation.

In 2018, Martindale had the honour of being Harbourfront Centre's inaugural Visual Artist-in-Residence. In 2018 and 2019, Martindale and his collaborator, JP King, were also the first Artists-in-Residence with the City of Toronto, Solid Waste Management Services.

The Trashion Show '20
For the second annual Trashion Show, Greenwood UTM teamed up with Zero Waste UTM, UTM Creatives for a Change, the UTMSU, and the UTM Masters of Sustainability Program, to host their most ambitious event yet. Held in the Kaneff Rotunda, the Trashion Show '20 doubled the scale of the first event, complete with over 50 designs, art installations, live music, and more! With a bustling venue and plenty of guests, the Trashion Show '20 was based around the word rebellion, calling for the designers to use their creative and sustainable designs as a way to rebel against the fast fashion industry; one of the largest contributing factors to the global climate crisis. The winner of the Trashion Show '20 was Gladys Lou, with a dress made entirely from paper receipts. In second place, Ananda Sophie Quadros de Andrade presented two formal-style evening dresses made from used materials. Third place was awarded to Justine Lyn, the first place winner of the Trashion Show '19, for her collection of designs made from used fabrics, focusing on current fashion trends.
Unsettling Settlers: Intervention

The first in a series of free workshops, Greenwood UTM had invited multi-disciplinary artist Golboo Amani to host a play test and discourse event entitled Unsettling Settlers: Intervention. The goal of Amani's project is to interrupt the colonial narrative of the board game Settlers of Catan by employing strategies that strengthen players' abilities to imagine critical alternatives and counter hegemonic narratives of settlement. In Unsettling Settlers: Intervention, players work through strategies of allyship by trading and collecting renewable resources, blocking expansion and development, building treaties and reclaiming land on a virtual landscape.

Multi-disciplinary artist Golboo Amani is best known for her performance and social practice works. Amani utilizes familiar social engagements and patterns of performativity as ready-made sites for aesthetic intervention and critical engagement. Amani's work often addresses the conditions of knowledge production that render epistemic violence as invisible, insignificant and benign. Much of their work focuses on interventions or alternatives to formal sites of pedagogy to include forms, contexts and content normally excluded from institutionalized knowledge production. Their work has been shown nationally and internationally in venues including the Toronto Biennial of Art, Art Gallery of York University, Creative Time Summit, Art Gallery of Ontario, Articule, XPACE Artist-Run Centre, Encuentro: Hemispheric Institute, Union Gallery, Blackwood Gallery, Rhubarb Festival, FADO Emerging Artist Series, TRANSMUTED International Festival of Performance Art (Mexico City), 221A Artist-Run Centre, and the LIVE Biennial of Performance Art.

The Scream: A 1-Minute Expression of Eco-Anxiety


In advance of the Global Climate Strike, Greenwood invited students to express their eco-anxieties through a minute-long opportunity to scream. Greenwood UTM hosted four Scream sessions—one at noon each day from September 16-19 to ensure that as many staff members and students as possible would be able to participate. The act of screaming both relieves the tension of our collective eco-anxiety, but also materializes the voice of the student body, so that it can be heard by the entirety of UTM, demanding change and pushing for more green initiatives on campus. The minute-long scream was held alongside the Blackwood Gallery's banner-making workshop station, as well as their letter-writing station supporting students in contacting local politicians and leaders for environmental action.

The Trashion Show '19

Alongside the UTMSU, ZeroWaste UTM, UTM Creatives for a Change and Style & Profyle, Greenwood UTM co-hosted this collaborative event promoting sustainability through fashion. The first ever annual Trashion Show called for artists and designers to submit their sustainability- and environmentally-themed work. The event drew crowds, with artists, guests, models, and judges filling the UTM's Blind Duck Pub. Sustainable designs and artwork were judged. Justine Lyn and Chelsea Dalton were awarded first and second place respectively for their designs, and Mira Szuberwood and Laura Colacci were awarded first and second place respectively for their artwork.
Green Space: Seeding Change at UTM

As their debut event, Greenwood UTM hosted Green Space: Seeding Change at UTM, an environmental fair with the purpose of creating conversation around the global climate crisis all while fostering conversation with the UTM student body on what we can do on campus to live more sustainably. This event included booths by Free the Children at UTM, Zero Waste UTM, and The Riverwood Conservancy, and various activities promoting sustainability, including clothing swaps, the creation of a Greenwood UTM trash installation, and a sustainability-themed campus-wide scavenger hunt. Green Space: Seeding Change at UTM took place in the CCT Atrium (UTM) on March 8, 2019.