(Intra)terior Vessel, Becoming, Fernigen C. Thicket, Sampling Kinship, Stay With Me, VHD VHD
Ashley Snook, sculptures and installations, 2014–2018



(Intra)terior Vessel, wax, dog fur, plaster, approx. 60 in x 13 in x 10 in, 2016


My practice examines the relationships between human and nonhuman animals within the existing biosphere. As an artist, I am intuitively driven to create work that engages with notions of interconnectivity and animality through the innate affinity for other living organisms seen in the concept of biophilia. Through the development of corporeal artworks that physically amalgamate characteristics of animal, human, and plant using organic and synthetic materials, the foundation of my work questions the conventional hierarchy that grants a lower status of agency to the nonhuman. This trajectory of biological exploration and animality aims to reconnect a raw sense of intimacy between the human and animal and the surrounding biosphere through sculpture, installation and drawing.


Becoming, moss, clay, sheep wool, wax, approx. 18 in x 13 in x 15 in, 2014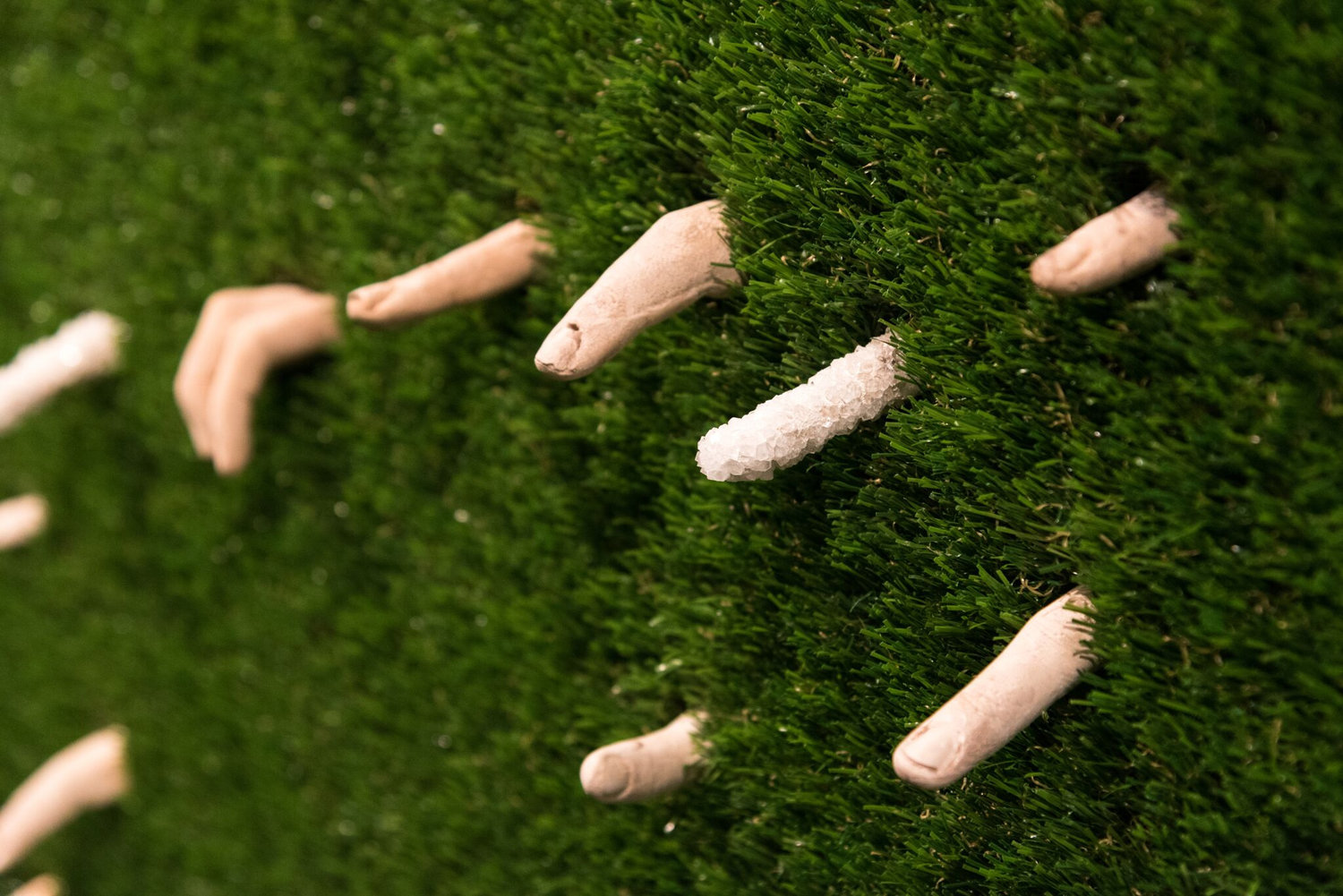 Fernigen C. Thicket, artificial grass, plaster fingers, crystals, essential oils: cedar wood; pine; balsam fir; eucalyptus; vetiver, recorded sound, (photographic credits to Gabby Frank)
My own experience comes into play with my work. Coming from a small town in Northern Ontario, I have continuously been surrounded by forests, fresh lakes, and domesticated and undomesticated nonhuman animals. In using my own experience as an entry-point within my practice, I aim to re-visualize the points of connection between the nonhuman and human animal and vegetal/botanical life in order to denaturalize the power binaries of species through the suggestion of removing barriers of the human/animal divide.


Sampling Kinship, glass test tubes, soil, chia seeds, plaster, wax, fur, organic material, approx. 17 in x 3.5 in x 6 in, 2015-16
VHD VHD, glass, hair, sand, organic material, essential oils: lavender, lemon, cypress, mint, patchouli, recorded sound, 2019
Stay With Me, organic material, Murmur land Studios Residency - The City in Reverse: Diagramming Intelligent Systems, Sherbrooke, Nova Scotia (July 2-8, 2017)
---
Ashley Snook is a Toronto-based interdisciplinary artist and is currently a PhD student in the Art and Visual Culture program at Western University in London, Ontario. In her practice, Ashley examines interconnectivity between human and nonhuman animals, and vegetal/botanical life. Currently, her research and studio work investigate fundamental linkages between species, aiming to fuse conceptual separations through sculpture, installation and drawing.